At the traffic signal, a biker with his girl friend leaning on his back, a truck loaded with steel rods to be delivered at a construction site, a delivery guy with lots of couriers to be delivered at various sites, a company cab with employees waiting to return home, several others staring at the traffic light to go green. Digits count down to zero, from red to yellow and get set go it is green.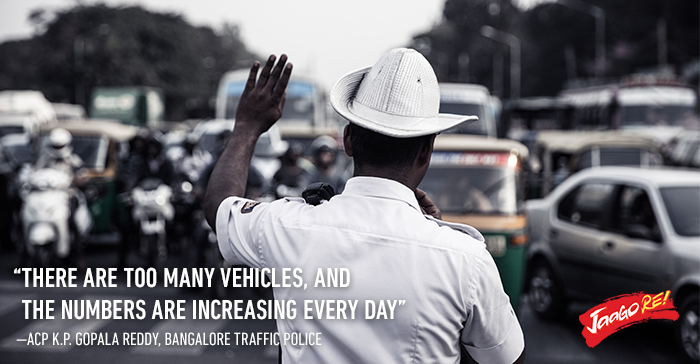 Throttling vehicles zoom past me at speeds not suitable to the Bangalore traffic nor suitable to safety of the road travelers.
Yeah, I was once upon a time a fast and furious kind of driver unless and until I met with an accident. It was usually an empty road which I generally prefer to be free from crowdy environment and this encouraged me to test the high speeds of my bike. on one fine day riding from my office to home with my colleague on my back seat, I was zooming. A sharp turn and a group of kids, a sudden brake, an accident. I fell unconscious. Luckily my colleague escaped a little hurt and after sometime I was able to get back to conscious state to see my knee bleeding.
The kids who crossed the road in split of a second advised me to drive carefully. I did not know whether to get angry on them or laugh at their advise. I was in confused mode and with a shaken outlook I reached my home after dropping my colleague on the way, who was also shaken.
It took almost two weeks to get the injury cured.
When I try to recall the incident, more than me getting injured, I feel satisfied that none of the kids got injured in the run which would have made things worse and a bad accident to remember.
Before that accident, when I used to see people riding at safe speeds, it looked as if these people were afraid of hurting themselves from high speed accidents. But after that incident, I did realize that people who are riding at safe speeds are actually caring for the lives of fellow travelers and acting as messiah who control the speedsters and prevent many possible accidents.
Back to the traffic signal, a cab carrying employees was continuously honking behind me as I was according to him blocking the road with my normal driving speed. I stopped my vehicle and allowed him to move past to only find him waiting for a green signal at the next traffic signal. Funny indeed.
So the next time when you see someone driving at normal speed, please don't irritate them honking on their back for sake of your thrill moments. They are indeed the speed controllers on road, saving many lives on road.